Holistic Arts and Healing Festival
Sunday, October 2, 2022 (9:00 AM - 5:00 PM) (EDT)
Description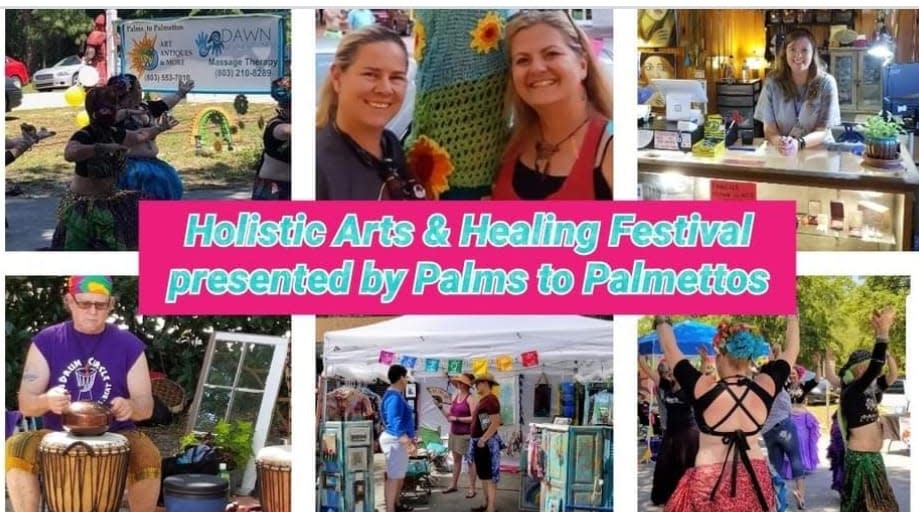 More information via the Facebook Event Page
The Holistic Arts and Healing Festival is the vision of Edie Enright and Dawn Ridge, who knew that when they opened their doors 8 years ago at Palms to Palmettos, that the Midlands was in dire need of a Spiritual Evolution. What manifested from this vision of bring healers, holistic practitioners and artists together transformed Columbia's mindset. It opened up a sacred space for the community to come together even if for just one day and share a vibration of love, compassion and happiness. For seven years, it has brought talented artists, crafters, light-workers, energy-workers, readers, massage therapists, reflexologists, shamans, spiritual advisors, herbalist and even non-profits to full circle. There are also classes, workshops, demonstrations, music, jewelry makers, drumming, food, yoga and more! Bring your family, your friends and join us for a day of holding Sacred Space, learning about ourselves, sharing and meeting other people in the Holistic Community. ☆☆☆☆Children attending the festival must be accompanied by an adult. No pets please. 🚫🐕🚫 🌦🌞🌦🌞 Rain or Shine!!🌞🌦🌞🌦 Bring your yoga mats! Parking: 🚘🚖 Parking will be at Love and Laughter💜💜 Daycare, American Heating and Air, and the Big G. 💥Please keep these parking areas Clean and Free of debris. We must respect their offering to use their space in order to have a successful Festival. ******NOTE: Please DO NOT PARK at Price's Automotive - TOWING WILL BE ENFORCED. 🚔🚔 FOLLOW US ON FACEBOOK, TWITTER & INSTAGRAM. Looking forward to another great year!!! ☆☆VENDORS AND VOLUNTEERS ARE BEING ACCEPTED NOW. Contact us if you would like to participate in this year's event!☆☆ Palms to Palmettos 3357 Leaphart Road, West Columbia, SC 29169 803.553.7010 or 803.210.8289
Palms to Palmettos
3357 Leaphart Rd.



West Columbia

,

SC

29169

United States



Sunday, October 2, 2022 (9:00 AM - 5:00 PM) (EDT)
Edie and I wanted to share with you an update about the HAHF that is scheduled for May 15. As some of you may know and other's may not, Edie is scheduled for a total hip replacement on June 8th. And 2 months ago, I fell on our property and reinjured my "bad" knee. I've tried for 2 months to see an orthopedic doctor and as a result of waiting....I've injured it even more.
With this being said, to uphold the integrity of our sacred festival we cannot give it our all and for that we have decided to RESCHEDULE it for SUNDAY OCTOBER 2, 2022.
So, for all of vendors who have committed, we THANK YOU and will see you in October. For all of earth centered attendees, please mark your calendars!
We ask for you to keep us both in your prayers and we do this journey to health and recovery quick and safely.